Emma Telfer rarely has a moment to sit down. Over the last 12 months, she and her team opened doors to 250 buildings in Melbourne and regional Victoria and delivered over 100 thought-provoking events that advocated for better-designed cities.
Building upon foundations established by sister organisations in London and Chicago, Open House offers free events that encourage engagement with architecture and provide a platform for discussion about future cities. The primary aim is to improve public design literacy by show-casing architectural excellence. The centrepiece of year-round programming is the Open House Melbourne Weekend each July when tens of thousands of Victorians explore their built environment armed with Open House programs and itineraries.
"The whole concept is based on generosity with organisations and individuals opening their doors so people can come through and learn about the value of design through tangible examples," explains Emma, who still marvels at the popularity of the event.
"What starts with curiosity develops into a connection with architecture and opens a design dialogue where many members of our audience then dive deeper into the program. In the process, and almost without realising it, their design literacy increases".
2019 was the biggest in the 12 year history of the public architecture organisation. More than 65 percent of buildings were new to the program. While there were more residences on board than ever before, commercial and civic premises continued to make up the core offering and provided the chance for attendees to celebrate past triumphs and explore future-facing workspaces.
ICI House – now Orica House – is a great case in point. Emma admits to a love-affair with modernism. She cites the 1956 Bates Smart McCutcheon (now Bates Smart) office tower as one of the buildings that captured her attention when she moved to Melbourne from New Zealand, and one that has become a favourite amongst Open House attendees.
According to Emma, connection to the city and inside-to-outside landscaping are fundamental to the experience of ICI House. When visitors walk through the building they get a sense that it was designed around the enjoyment of looking out and looking through the landscape.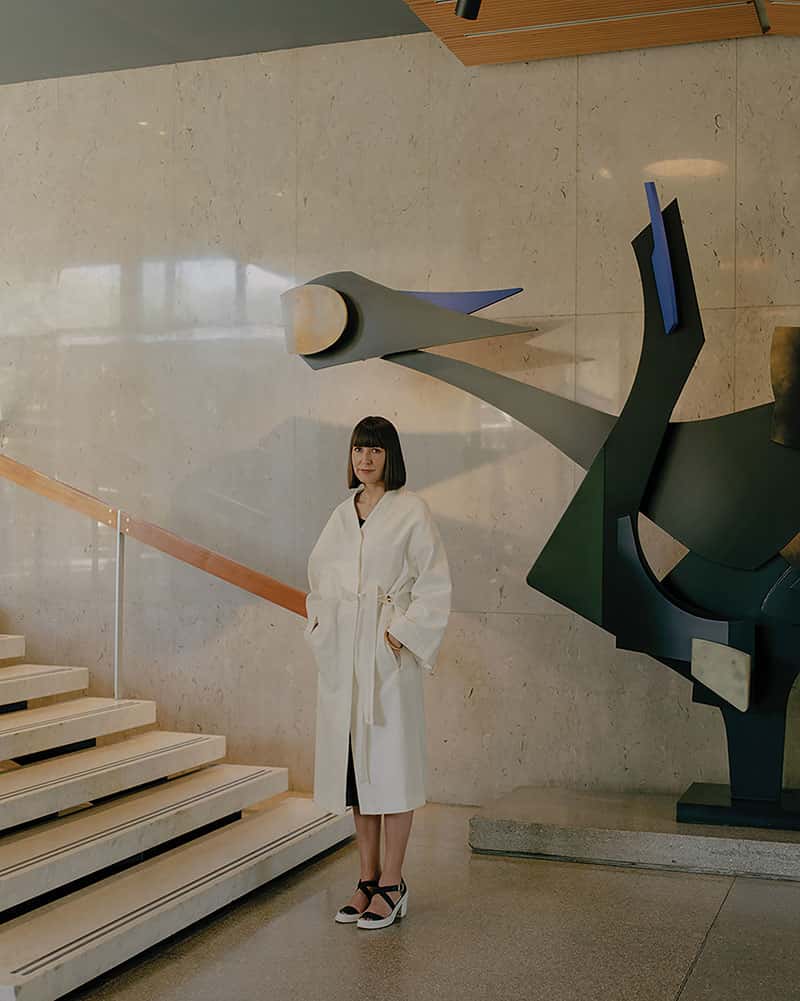 "The idea that biophilic design principles were integrated in the 1950s is astonishing. Somehow, we lost sight of that for a few decades and now we're realising the importance again," suggests Emma, noting that this aspect is taking centre stage at Goldfield's new development. "In a contemporary example, I'm impressed by the way 627 Chapel Street responds to its site and surroundings at an appropriate scale. Green screens and terraces are proposed through the building to connect people with nature". Public interest in the evolution of the workplace has grown over the successive iterations of Open House Melbourne. Contemporary offices are the most popular in the program. "People are really interested in learning about different ways of working," notes Emma, citing the popularity of COX Architecture amongst Open House guests. COX Architecture's studio is an incubator for future workplace design directions. Activity-based work areas and flexible, collaborative spaces are balanced with quiet corners for focused tasks. The large communal kitchen hub doubles as an informal meeting area. Where many organisations wish to interconnect floors, COX has created a 'town hall' by expanding a stairwell into an amphitheatre that works equally for presentations and social gatherings.
Emma sees quality workplace design as an investment that pays dividends in staff productivity and morale. "It's so important to think about people's well-being. By crafting healthy spaces that support healthy living, businesses get more out of their employees. Everybody is happier and that can only be a good thing".
Well-designed buildings that are responsive to their occupants and environment are only part of the puzzle when it comes to improving cities. There is a heightened need for new buildings to contribute to the public realm. "We are losing public space at a great rate as a result of the rapid development of our cities, our population growth and the spiralling cost of land. Now more than ever, buildings need to be good civic neighbours," says Emma. With its setbacks from the street, inviting cafes and retail activity as well as an inclusive business hub, 627 Chapel Street exemplifies the way buildings can provide spaces in which to retreat and recreate. "The fact that it is permeable, open and generous encourages use by diverse communities. COX Architects have clearly considered the broader context of the precinct and sought to activate the ground plane so it can be enjoyed by more people than just the occupants".
At a macro level, government investment in urban planning is essential to support Melbourne as it grows to accommodate 8 million people by 2037. As Australia's fastest growing city in the fastest growing state, Melbourne will face numerous challenges if it is to maintain its status as one of the world's most liveable cities.
"The development of South Yarra is fascinating," says Emma, noting the growth of Forrest Hill in particular. "We did a big walk around there recently and it's incredible to see the number of construction cranes peppering what will become a new skyline. We do need more commercial and residential development along our transport corridors so it's great to see that taking hold." In terms of work-life balance, she believes South Yarra is a welcome alternative to the CBD where lifestyle amenity, transport options and access to pocket parks, extensive parklands and the river all add to the appeal for both residents and incoming businesses.
"Having previously lived a stone's throw from South Yarra, it's always interesting to go back and see how much the area is evolving. South Yarra is a suburb with pockets where it feels like nothing changes, and then when you see where 627 Chapel Street is being built, and it's an entirely different suburb to the one I remember," says Emma.